German General Election 2017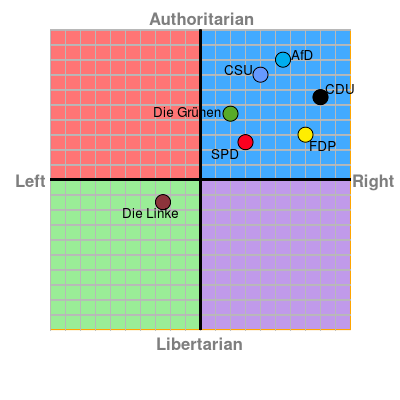 This time around, the German parties are mostly clustered closer together than they would like the public to believe. The CDU and CSU haven't shifted greatly in recent times, although, of course, some of the driving issues have.
Most parties — either reluctantly or enthusiastically — accept the prevailing economic orthodoxy, content to argue over which of them can best manage neoliberalism, rather than question whether it is appropriate for the ecological, social and cultural challenges of the times. It is on the social scale that they're now most comfortable defining their real and imagined differences.
As has happened elsewhere in Europe, many German political commentators — and, alas, the general public — wrongly refer to 'right' and 'left' as a description of social attitudes. In our French electoral analysis we pointed out that the 'far right' Front National is economically to the left of the French Socialist Party! Their extremism is in their social policies rather than in their economics — and this applies to many of the new deeply conservative 'right wing' parties emerging in western democracies. In Germany it's a little different though. The AfD shares a characteristic hostility to alternative lifestyles of many sister parties, and a willingness to give a helping hand to struggling traditional families, but it is less critical of globalisation per se. In its extraordinary cluster of attitudes, the relatively new anti-immigrant party has failed to recognise that open borders for the flow of capital is inextricably linked to open borders for the flow of people.
The German Greens are also of a different complexion from their more radical and undeniably left sister parties. It appears to be a party of few fixed principles, and with a considerable authoritarian streak, demonstrated by its attempts to legally enforce 'good behaviour'. There's a significant gap in the German Greens between their rhetoric and their surprisingly conservative positions on many issues.
We can imagine the ghost of Willy Brandt scratching his head in bewilderment as the SPD positions itself at the 'centre' — an increasingly meaningless term given the relentless rightward shift of the fulcrum. These days the mainstream of the party would feel more affinity with a Tony Blair than a Jeremy Corbyn. In reality, the Left Party is closer to the position that the SPD occupied before the mid-1980s.
Please see our FAQ 9 regarding the method of determining the position of each party, with reference to analysis of party leaders and deputy leaders.
Dieses Mal sind die deutschen Parteien näher beisammen als sie die Öffentlichkeit wahrhaben lassen wollen. Obwohl sich die CDU und die CSU in letzter Zeit allerdings nicht groß bewegt haben, ist dies für einige der Triebkräfte anders. Ob zögerlich oder enthusiastisch — die meisten Parteien akzeptieren die herrschende ökonomische Orthodoxie und beschränken sich darauf zu debattieren, wer den Neoliberalismus am besten managen könne, ohne dabei in Frage zu stellen, ob er für die ökologischen, sozialen und kulturellen Herausforderungen der Zeit die richtige Antwort ist. Es ist die Identitätspolitik, d.h. das soziale Feld, in dem die Parteien nun ihre realen und imaginierten Unterschiede am liebsten definieren.
Wie anderswo in Europa verwenden auch in Deutschland viele politische Kommentatoren — und leider auch die Öffentlichkeit — fälschlich 'rechts' und 'links' als Beschreibungen gesellschaftlicher Einstellungen. In unserer Wahlanalyse für Frankreich haben wir betont, dass die 'ultrarechte' Front National in ökonomischer Hinsicht links von der sozialistischen Partei Frankreichs steht! Ihr Extremismus liegt also mehr in ihrer gesellschaftlichen als in ihrer ökonomischen Ausrichtung — was für viele der neuen zutiefst konservativen 'ultrarechten' Parteien, die sich in Europa entwickeln, gilt. In Deutschland ist dies jedoch ein wenig anders. Die AfD teilt eine charakteristische Feindseligkeit vieler ihrer Schwesterparteien gegenüber alternativen Lebensstilen und eine grundsätzliche Bereitschaft die unter Druck geratene traditionelle Familie zu unterstützen, aber sie ist an sich weniger globalisierungskritisch. In ihrem eigenartigen Mix von Einstellungen hat die relativ neue Anti-Immigrations-Partei es versäumt zu erkennen, dass offene Grenzen für den Fluss von Kapital untrennbar mit Grenzöffnung auch für Menschen verbunden sind.
Die deutschen Grünen weisen ebenfalls eine unterschiedliche Schattierung gegenüber ihren eher radikalen und unleugbar linken Schwesterparteien auf. Es scheint sich um eine Partei mit wenigen feststehenden Prinzipien zu handeln und mit einem beträchtlichen autoritären Einschlag, ablesbar an ihren Versuchen 'ethisch erwünschtes Verhalten' gesetzlich zu erzwingen. Es gibt eine überraschende Differenz bei den deutschen Grünen zwischen ihrer Rhetorik und ihren überraschend konservativen Positionen in vielen Sachfragen.
Der Geist von Willy Brandt würde sich vermutlich erstaunt die Augen reiben, wenn er sähe, wie sich die SPD 'in der Mitte' positioniert, ein in zunehmendem Maße sinnentleerter Begriff angesichts der unablässigen Rechtsdrift der Bezugspunkte. Dieser Tage würde der größte Teil der Partei mehr Affinität zu einem Tony Blair als zu einem Jeremy Corbyn fühlen. In Wahrheit ist heute die Linkspartei näher an der Position, welche die SPD vor der Mitte der 1980er Jahre inne hatte.
In Bezug auf die Methode, die Positionen jeder Partei festzulegen, schauen Sie bitte unsere FAQ 9 an, mit einem Bezug zu einer Analyse der Pateivorsitzenden und deren Stellvertretern.
Our grateful thanks to Professor Christoph Herzog for the translation.