Canada 2008 Election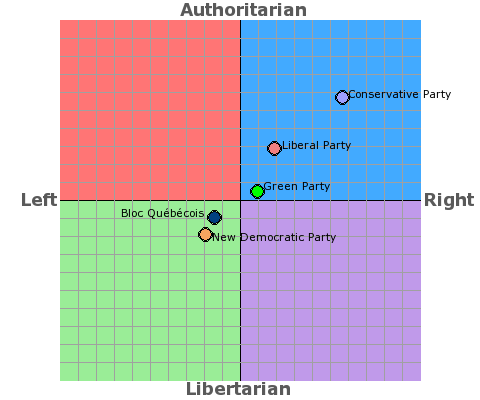 The Conservative Party's move further towards the Bush-Reagan mix of free market economics with social conservatism makes the somewhat mercurial Liberals look more moderate, despite their own rightward drift. An emphasis on environmental issues has helped the Liberals downplay deep differences within the party on other key issues. The Greens, more fiscally conservative than most of their sister parties, also harbour significant left-right differences within their ranks. Similarly Bloc Québécois is united in its core cause, but considerably divided in other policy areas. In provinces where the NDP has governed in recent years, social spending cutbacks and other nods towards neoliberalism place the party today closer to where the Liberals were two decades ago.
During the campaign we'll be tweaking positions when necessary and hope to add some smaller parties as well.